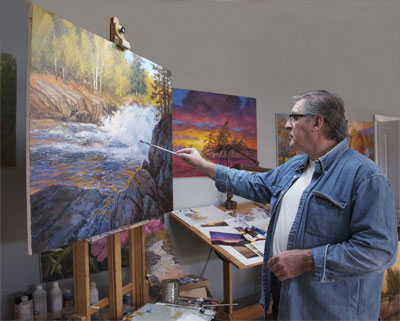 Biography
ROBERT AMIRAULT, O.S.A., C.S.P.W.C., P.A.C.
A self directed artist, Bob paints in a representational style and has been painting or involved with art related activities since his teen years.
Landscapes, seascapes, faces and figures are his favourite subjects and he continues to spend his time experimenting and studying the craft of painting fine art in an effort to reach an ever elusive goal.
Bob continues to be fascinated by the effects of light on the subjects he chooses to paint. Though realistic in his painting style he seeks the beautiful abstract patterns that he finds in nature. The changing qualities of light and abstract patterns, combined with bold brush work make up Bob's unique vision of the world.
Many of Bob's oil and watercolour paintings have been created on locations in various parts of rural Ontario, the Arctic, the Maritimes or other places on his travels outside of Canada. His larger paintings are created in his home studio working from his 'Plein Air' studies and reference materials gathered on his journeys.
Bob has exhibited his paintings in many group showings in Toronto and London, Ontario starting in the mid 1960's. For over 30 years he annually held successful, by invitation only, exhibits in the Markham area. In 1984 he participated in a two-person show held in a restored castle in Stia, Italy, a small town outside of Florence.
After being elected to membership in the prestigious and historic Ontario Society of Artists, Bob exhibit in many of the societies annual juried exhibitions. He was an active member of the OSA in the early 1980's attaining the position of vice-president.
In 1997, after his watercolour paintings were juried he was invited to join the Canadian Society on Painters in Water Colours. One of the many exhibitions he participated in was the International Watercolour Biennial, held in Mexico City in October 2000. One of his paintings hangs with the societies Diploma Collection in the Art Gallery of Peel, Ontario. He served on the executive committee for a number of years.
In 2005, Bob joined with five well-known Canadian artists and established Plein Air Canada, an organization promoting painting out of doors…in the open air.
Bob was one of 25 artists, in 2006, who traveled to Canada's North West Passage to celebrate the 100th anniversary of its discovery.
Born in Yarmouth, Nova Scotia in 1938 Bob and his wife Mona recently moved and now reside in the Niagara Region of Ontario.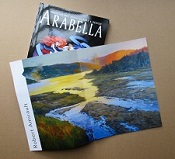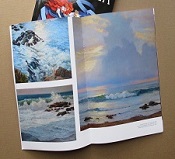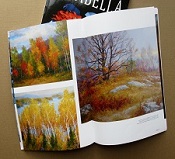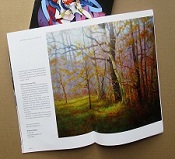 /p
ARABELLA is a Canadian magazine about art, architecture and design. Each issue has an estimated 200,000 readers and is seen in many homes as a popular coffee table 'book'. I am one of the featured artists in the current Winter 2018 issue, Volume 10, Issue 2. The beautifully printed, full colour 340 page magazine, features 16 pages with a story about my career and adventures as an artist and shows 13 of my recent oil paintings. The magazine can be found in Indigo, Chapters, Coles and various bookstores across Canada or by subscription. A complete legible digital issue can be viewed online at … www.arabelladesign.com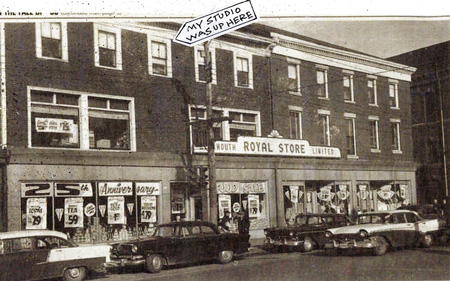 ROYAL STORE. Painting Signs 1960.
My first job after leaving high school was working in The Yarmouth Royal Stores mens department... I also painted all of the signs needed for the other departments shown here in 1960.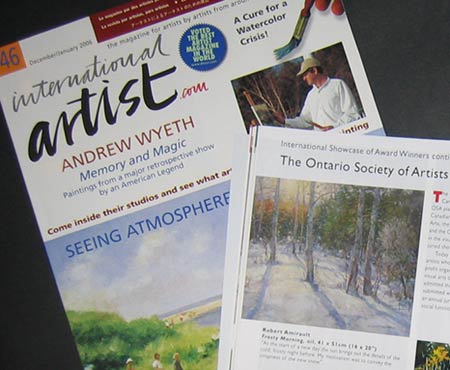 Image was featured in the International Artist Magazine
Robert Amirault's painting, Frosty Morning was featured in an issue of International Artist Magazine (# 46, December / January 2006). Published in Australia and distributed in over 60 countries. International Artist was voted the Best Artist Magazine in the world.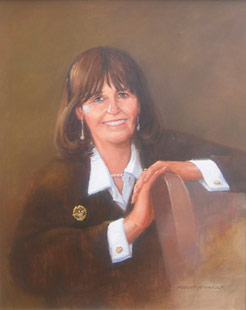 Baroness Caroline Cox Portrait
In the fall of 2005 representatives of the "Hayastan" All-Armenian Fund, Toronto Branch, asked me if I would accept a commission to paint a portrait of an English Baroness. It was to be a surprise gift and be presented to her at a fund raising dinner in June 2006. The Armenian Fund was established in 1992, and has funded nearly 300 humanitarian projects all across Armenia and Karabagh. Baroness Caroline Cox, considered one of the great humanitarians in the world today, is the deputy-speaker of the House of Lords, appointed by Margaret Thatcher. Her international work includes serving as a Director of the Sakharov Foundation, Trustee of Medical Emergency Relief International, Chairperson of Christian Solidarity Union as well as the Chief Executive of HART (Humanitarian Aid Relief Trust). She has been awarded honourary doctorates by universities in the UK, USA, Russia and Armenia. The challenge for me was to paint the portrait without meeting her, using only a few photographs and a video of her making a speech. I accepted the commission once I established an 'escape' for myself. If I failed to create a painting that was satisfactory to me, I told the committee, then they could buy an Inuit sculpture to present to her and I would be the only one disappointed.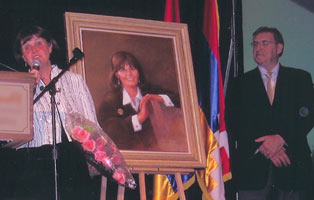 I finished the 24" x 30" oil on canvas portrait in early June, just in time to have it framed for the fund raising dinner. It was presented to the Baroness on a stage in front of 500+ supporters who quickly stood and gave a warm and lengthy ovation. She was obviously moved and told me when I joined her on the stage that it was "the best portrait ever painted of her" and she gently kissed me on the cheek. Her long time assistant wrote when the portrait arrived in England, "I think the portrait is very beautiful and the portrayal has captured for me the essence of Caroline's personality, as her caring and loving shines through the picture. Please congratulate the artist: I love his work. I have worked for Caroline for many years and this is my favourite portrait of her, as it shows what a beautiful person she is. We should all treasure her and this work"! It is always good when things work out. Bob